Australian Bana Kuma Retreat
March 14 @ 8:00 am

-

March 17 @ 5:00 pm

HST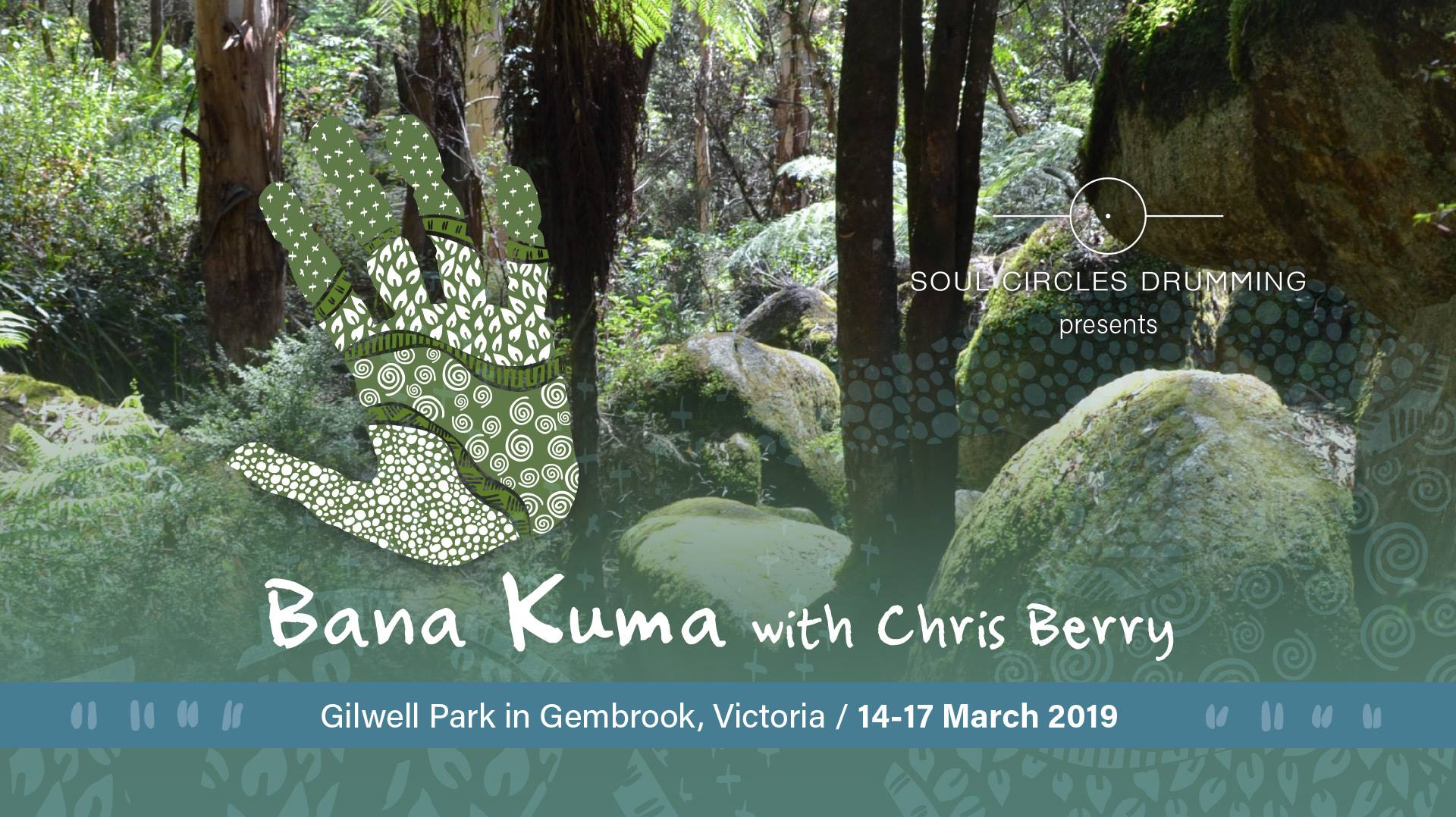 We are so excited to be offering the Melbourne leg of the AUSTRALIAN BANA KUMA RETREAT TOUR WITH CHRIS BERRY, with its intimations of joy and of a journey to be had! This is the first of two transformational intensives, the second of which will be in Byron Bay (further details to come!).
This weekend retreat will support you in the manifestation of your divine genius by embodying universal wisdom expressed in music and dance arrangements. This unique experience will be enabled by legendary composer, multi-instrumentalist, dancer and medium Chris Berry, supported by Soul Circles Drumming (Melbourne) and Talkin' the Drum (Brisbane).
Over the course of the retreat, Chris will guide us in African inspired musical arrangements, songs and dances that resonate with forces of the natural world. These will be offered through the example of his Bana Kuma (literally meaning sacred altering, or the process by which thoughts become reality), and culminate in a drum and dance ceremony intended to empower the personal intentions of all who contribute their energy. No previous drumming or dancing experience is necessary.
This very special event will be held in the exquisite surrounds of Gilwell Park in Gembrook. Your booking and contribution will include the following:
• 3 nights accommodation (Thursday, Friday and Saturday evenings) OR camping
• All meals provided by Mother Tree Creations (Thursday night dinner – Sunday lunch as well as snacks).
• Drum hire
• Intensive drum, dance and music classes each day (Thursday evening – Sunday afternoon)
• Storytelling, jamming and wisdom councils each evening
Day passes are available, as well as the full program without accommodation if you are local and choose not to stay with us. For these and other options as well as any further enquiries please contact us via djulz@soulcirclesdrumming.com or 0427478221.
To secure your booking immediately, direct deposit your exchange to the account below including your name in the description. Alternatively, transfer your contribution through Paypal via the Friends and Family link to the email address above. Please follow this through with an email so that we may begin this journey together from its earliest stages!
Julianne Chambers
BSB 083184
ACC 565286560
ENERGY EXCHANGE RATES
ADULTS
Early Bird DORMITORY ACCOMMODATION option (Closing November 11th): $615
Full Price DORMITORY ACCOMMODATION option: $675
Early Bird CAMPING option (Closing November 11th): $540
Full Price CAMPING option: $600
KIDS 5 AND UNDER
Full-Price DORMITORY OR CAMPING option: $110
KIDS 6-12
Early Bird DORMITORY option (Closing November 11th): $290
Full Price DORMITORY option: $310
Early Bird CAMPING option (Closing November 11th): $210
Full Price CAMPING option: $230
PAYMENT PLANS are available, and require a $100 non-refundable deposit. All payment plans must be complete by March 7th, 2019. Please get in touch if this option suits you best.
We so look forward to sharing this joyful journey with you!
ABOUT CHRIS BERRY AND 'N'JINJI'
Chris began his musical journey as a youth inspired by the incredible melodics of the Zimbabwean Mbira. His passion for the instrument and the culture that created it led him to live amongst the Shona tribe of Zimbabwe, where he was bestowed with the title Gwenyambira meaning 'one whose music calls the spirits.'
In subsequent years his journey expanded from music-making into mediumship, under the guidance of Shona wisdom keepers and spirit mediums. He then embarked upon a journey to share the great potential of musical creation with communities worldwide, using story-telling, melodic instrumentalism, song, drumming and movement to activate a phenomenon known as N'jinji (literally a channel that opens between the physical and spirit realms). This is the high-vibrational sensation that musicians sense when everything is 'in the pocket,' and when time and space seem to lose their hold. The state of mind this invokes creates the ultimate condition for healing and ancestral communion.
For more information about Chris Berry's Bana Kuma, please visit www.chrisberrymusic.org.